Codiaeum Aucubaefolia ◦ Croton Gold Dust ◦ Terrarium Plant
Regular price

Sale price

£6.95
Delivered straight to your door
Order by 2 pm for same day dispatch (Mon-Fri)
Free delivery over £50*
Share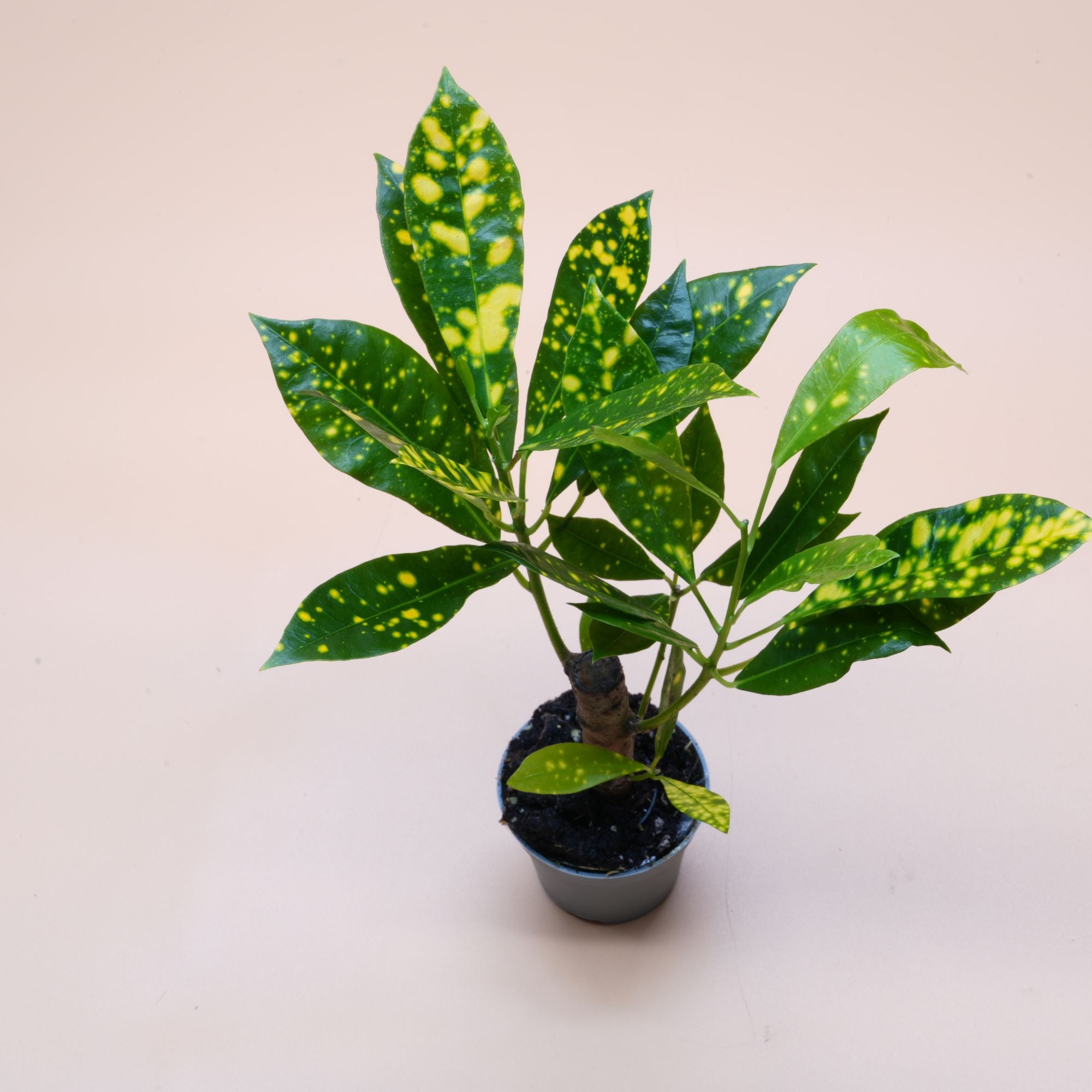 Product Details
This incredibly stunning Baby Codiaeum Aucubaefolia plant offers more than just a touch of green to your space. Also known as the Gold Dust Croton, this gorgeous little plant is a golden gift for any plant lover. Its large, glossy green leaves are adorned with golden yellow mottled patterns, creating a unique look that brings colour and charm to any small space, including closed terrariums. 
Easy Care for a Vibrant Life
Croton plants are generally easy to care for, making them ideal for both novice and advanced plant parents. The brighter the spot you choose for this vibrant houseplant, the more colourful the foliage will be. It thrives in warm, bright spots and can even tolerate some direct sunlight. However, avoid too much direct light as it can scorch the leaves.
Ideal for Closed Terrariums
This variety of Codiaeum Aucubaefolia is particularly well-suited for closed terrariums. It loves the humidity and controlled environment that a closed terrarium provides. The plant's size and growing habits make it a perfect fit for such spaces, doubling its appeal as a terrarium plant.
Watering and Soil Requirements
While Baby Codiaeum Aucubaefolia prefers lightly moist soil, it doesn't enjoy being waterlogged. Make sure the soil drains well and allow the top 2cm to dry out before watering again. This ensures that your plant stays healthy and continues to showcase its vibrant colours. Watering regime will differ in a closed terrarium. 
A Gift That Keeps on Giving
Looking for the perfect gift? This plant is not just a beautiful addition to any indoor space; it's also a gift that keeps on giving. Its easy care and stunning appearance make it a gift anyone would be thrilled to receive.
Pot size
Ø 5,5 cm 

Since the glassware is crafted by hand, minor imperfections like tiny bubbles or slight irregularities may be present; kindly make allowances for such nuances. While we strive to include the plants specified in the description, there may be instances where a substitute is provided due to stock availability.
Each plant is one-of-a-kind, so while it may not look identical to the picture, it will be similar in size and type. Additionally, the color of the plants may vary from what is shown in the photos.
The photos provided of ready made terrariums serve as a general guide to the product's appearance. Since each item is handcrafted, slight variations in its look are to be expected.
As your package includes live plants, we recommend unboxing your items at your earliest convenience.