Nephrolepis Bostoniensis ◦ Boston Fern ◦ Terrarium Plant
Regular price

Sale price

£6.95
Delivered straight to your door
Order by 2 pm for same day dispatch (Mon-Fri)
Free delivery over £50*
Share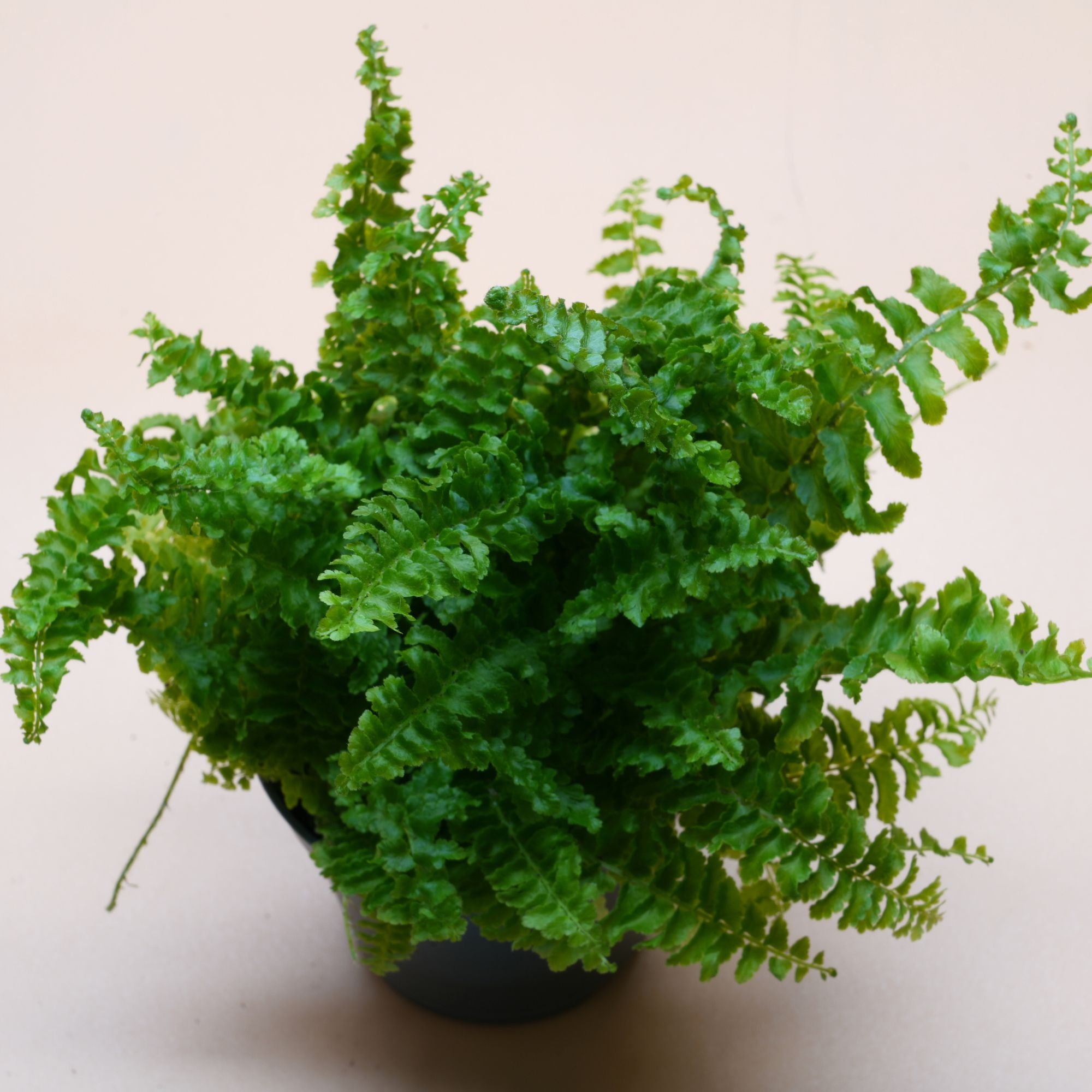 Product Details
This lush Nephrolepis Bostoniensis, commonly known as the Boston Fern or Sword Fern -  is a golden addition to any home and an excellent choice for closed terrariums or garden bottles. This evergreen plant has been a popular choice since Victorian times and continues to thrive in modern households. With its stunning green foliage and fountain-like growth structure, it's a plant that's both attractive and functional.
Effortless Care for a Thriving Fern
The Boston Fern is undemanding and easy to maintain. It thrives in partial shade and prefers a humid environment, making it an ideal candidate for closed terrariums. Keep the soil moist but not waterlogged, and you'll have a lush, thriving plant. If your home tends to be dry, simply mist the fern to keep it happy. Feeding is a breeze too; an all-purpose general fertilizer every few months will suffice. Please note watering and care regime will differ inside a closed terrarium. 
Air-Purifying and Pet-Friendly
One of the standout features of the Boston Fern is its air-purifying capabilities. It's an excellent choice for improving indoor air quality, especially in enclosed spaces like terrariums. Plus, it's pet-friendly, making it a perfect addition to households with furry friends.
Ideal for Small Spaces and Versatile Placement
This fern is perfect for small spaces, including closed terrariums and garden bottles. It can also be placed in hanging baskets, on windowsills, or even as a centerpiece. Pruning is minimal; simply remove dead fronds as they appear.
Pot size
Ø 5,5 cm 
Since the glassware is crafted by hand, minor imperfections like tiny bubbles or slight irregularities may be present; kindly make allowances for such nuances. While we strive to include the plants specified in the description, there may be instances where a substitute is provided due to stock availability.
Each plant is one-of-a-kind, so while it may not look identical to the picture, it will be similar in size and type. Additionally, the color of the plants may vary from what is shown in the photos.
The photos provided of ready made terrariums serve as a general guide to the product's appearance. Since each item is handcrafted, slight variations in its look are to be expected.
As your package includes live plants, we recommend unboxing your items at your earliest convenience.