Trio Ready-made terrariums ◦ Baker Street, Bond Street & Westminister H: 25 cm, H: 37 cm & H: 43 cm
Regular price

Sale price

£373.95
Delivered straight to your door
Order by 2 pm for same day dispatch (Mon-Fri)
Free delivery over £50*
Share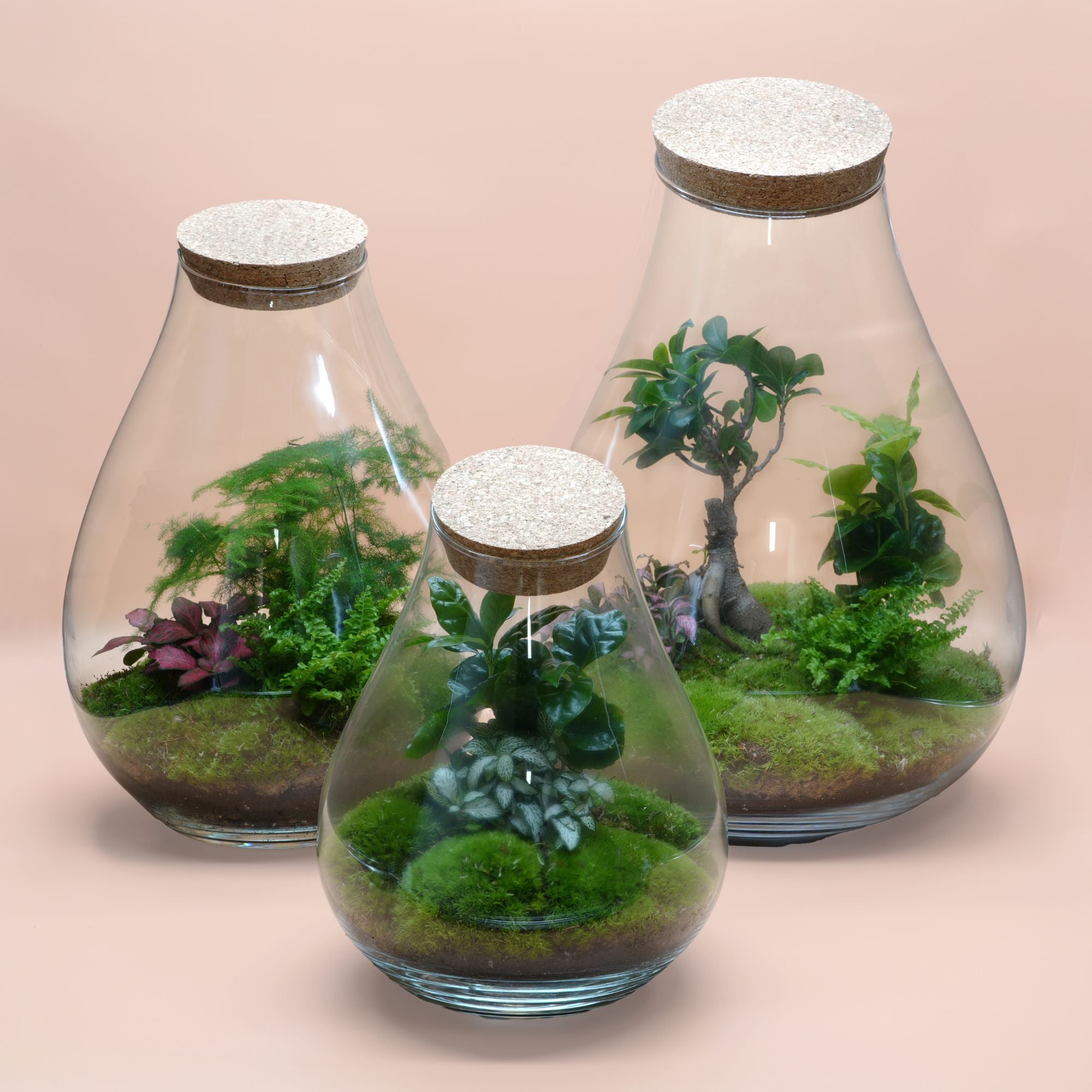 Product Details
Step into a world of lush greenery with our one-of-a-kind closed terrarium trio, meticulously hand-planted and ready to transform your space. This golden collection is the ultimate gift for plant lovers, offering a slice of nature in elegant glass jars.
What's Inside the Trio?:
The smallest jar in the set features a coffee plant, fittonia, and moss. This terrarium instantly completes any coffee lover's collection, offering the basics of a miniature garden.

The medium-sized terrarium is a treasure trove of ferns and mosses, featuring Asparagus Fern, Fittonia, Boston Fern, and soft bun moss. 

The largest jar is a huge ecosystem unto itself, featuring Bonsai Ginseng, Fittonia, Boston Fern, Coffea Arabica, and moss. This terrarium is for those who want to receive the full spectrum of plant life in one grand display.
Our closed terrariums are self-sustaining ecosystems that require minimal care. Each terrarium comes with detailed care instructions, making it easier than ever to maintain your indoor garden.
Looking for gifts for plant lovers? Our terrarium trio is the chosen gift that keeps on giving. We hand-plant each terrarium and deliver it straight to your recipient's door, making it the perfect surprise for any occasion.
These handmade terrariums arrives fully assembled and ready to enjoy.
Size:
Small terrarium: ↑ 37 cm Ø 26 cm 
Medium terrarium: ↑ 37 cm Ø 26 cm 
Large terrarium: ↑ 43 cm Ø 34 cm 
Care:
Our terrarium comes with care instructions
Since the glassware is crafted by hand, minor imperfections like tiny bubbles or slight irregularities may be present; kindly make allowances for such nuances. While we strive to include the plants specified in the description, there may be instances where a substitute is provided due to stock availability.
Each plant is one-of-a-kind, so while it may not look identical to the picture, it will be similar in size and type. Additionally, the color of the plants may vary from what is shown in the photos.
The photos provided of ready made terrariums serve as a general guide to the product's appearance. Since each item is handcrafted, slight variations in its look are to be expected.
As your package includes live plants, we recommend unboxing your items at your earliest convenience.